Young Artist Concerto Performances
Rehearsal and Performance Schedule
 January 10, 11, 12, 14 — April 18, 19, 20, 22  — July 18, 19, 20, 22            
Note: first two dates in each group are 7-10 p.m. rehearsals at the Scherr Forum Theatre, Thousand Oaks Civic Arts Plaza.   Third date in each group is a Friday 7:30 p.m. performance at the Camarillo United Methodist
Church, and the final date in each group is a 2:30 performance at the Scherr Forum Theatre, Thousand Oaks Civic Arts Plaza.   There will also be a late afternoon or evening run through with the conductor the Monday of performance week prior to start of rehearsals or the previous week.
Registration Deadline was Nov 4 2017.
Any questions: email to Ornela Ervin, ornelaervin@verizon.net
Appassionata Program General information and Description
September 2017 – June 2018
The next master classes are as follows:
Strings: Feb. 24 6:00- 9:00 pm, at a Woodland Hills private home
Dr. Ernest Salem, Violin faculty at CSU Fullerton is the Master Teacher.
Piano: Sunday March 11th. afternoon, Westlake Village private home.
Russian pianist Anastasia Dedik.
For further information email: ornelaervin@verizon.net
Recent Second Piano Master Class
Featured seven outstanding pianists performing. Craig Richey was the Master Teacher. (Program below)Recently we held our Second Piano Master Class with seven outstanding pianists performing. Craig Richey was the Master Teacher.(Program below)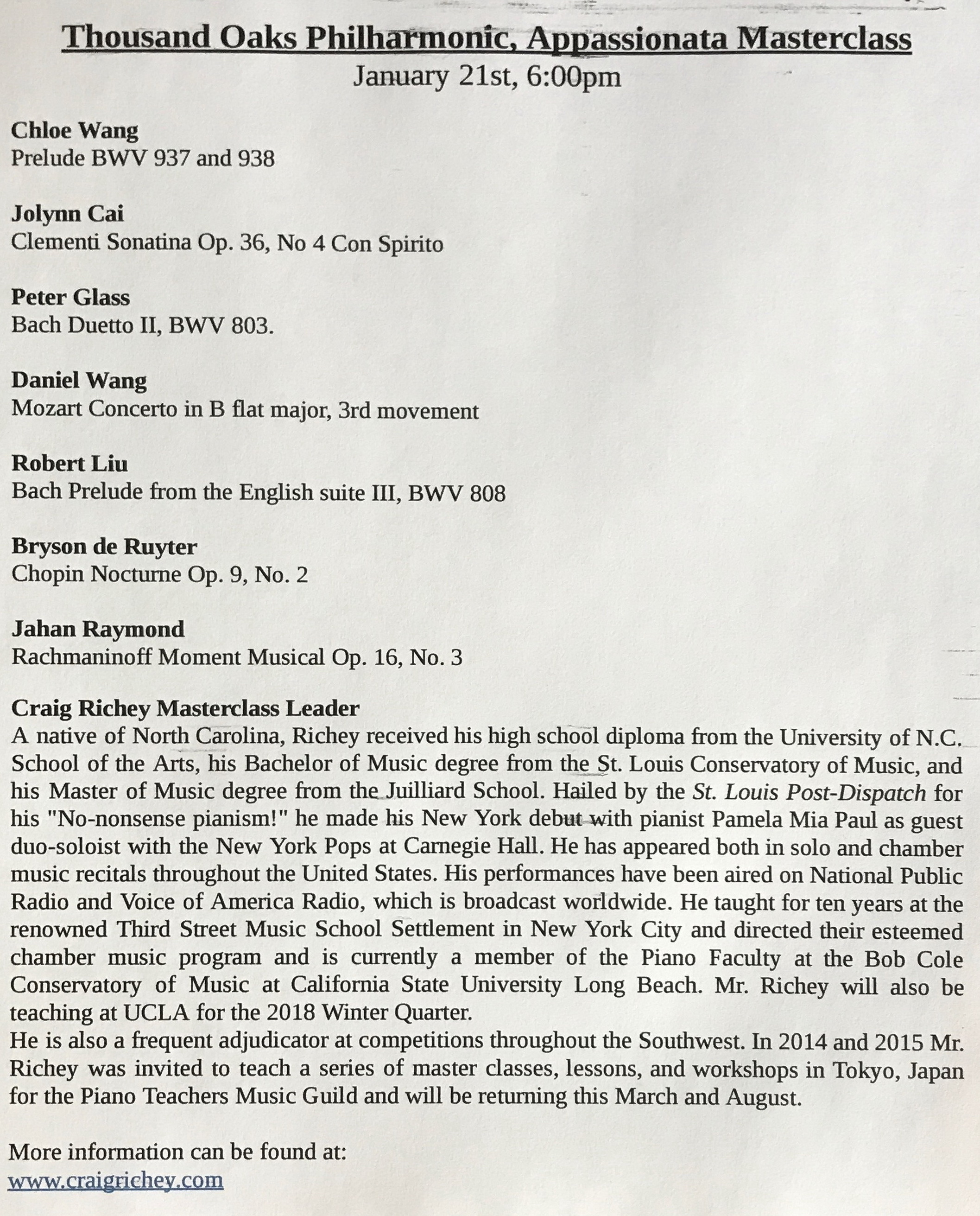 APPASSIONATA  PROGRAM – General  information and Description 
For further information, contact Ornela Ervin at ornelaervin@verizon.net
 September 2017 – June 2018
Registration and Payment: HERE  
This is an educational program that serves the needs of young musicians.  It provides student recitals and Master Classes and is the entry port for becoming a soloist with the Thousand Oaks Philharmonic.  Any student wishing to audition to solo with the Thousand Oaks Philharmonic MUST be a member of the Appassionata Program.   The program is open for students 18 years of age and under.  Partial funding is provided by the Edward Francis Scholarship Fund.  For updated information on the program consult frequently TO Phil.org or , "like" the TO Phil Facebook page. 
Home address for Appassionata Students
Students, or parents, or teacher must live in Ventura County, Westlake Village, Agoura Hills, Calabasas or Malibu for a student to become an Appassionata member and soloist with the Thousand Oaks Philharmonic.  Composers students must currently be working  taking composition classes at a college or university.  College students must be based in the Ventura, etc. area, either as a student or having parents in this area.
Categories and Fees for Appassionata Program Membership
Pianists                                                             $200
String players                                                    $150
Wind players, Brass players, Vocalists               $50
Composers                                                          $50
Master Classes
Piano Master Classes – 2 or more MC with 5 or 6 players each
String Master Classes – 1 or more MC with 5 or 6 players each
Master Classes can run 2 to 2 1/2 hours depending on the number of students.
All Appassionata students, parents and friends can audit any Master Class for free.
Accompanists will be given a fee per recital from the TO Phil organization.
Two or more Recitals
All Appassionata students may perform on as many recitals as they request.
First come, first served, if there are too many requests on a particular date.
They will be held at Retirement Communities or other appropriate venues.
Recitals will be set up as needed.
Dates and venues will be sent out to members in advance.
The TO Phil will cover the accompanist fee at a recital.
Concerto Audition Date and Location
Registration
Form at TOPhil.org
Deadline for application is 11:59 pm Saturday, November 4, 2017.
No Fee
Audition
Saturday, December 2, 2017
CSUN
Nordhoff Hall, Room 107
Nordhoff St., Northridge, CA (close to Valley Performing Arts Center)                                                                                            
Concerto Performance Fees and Vouchers
Fee for a chosen soloist: $650
Each soloist gets 10 vouchers per concert when they perform.
They also get 2 vouchers for all the other concerts.
It is requested that they hand in the names for the vouchers by the Sunday before the Friday concert.
Give names to Ornela Ervin at ornelaervin@verizon.net.
Concert ticket prices – TOCAP – Reserved seats
$30 Adults
$10 Students
$10 Active Military 
Concert ticket prices – Camarillo United Methodist Church – Open seating
$20 Adults
$10 Students
$10 Active Military
 Concert Dates
January 12 and 14
April 20 and 22
July 20 and 22
Sign up for Appassionata membership and pay online HERE
Ticket Sales
CUMC Contribute for admission on the website – tophil.org – and pay online or at the Door (Checks written to TO Phil)
TOCAP Buy tickets in person at the Box Office or on their website