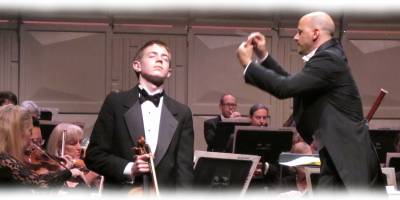 Happy Holidays from the Thousand Oaks Philharmonic!
We are excited about the coming season for the Thousand Oaks Philharmonic.  We will be hearing many new talented young artists as they perform with our orchestra.  We will also be treated to some music that we have not heard before from our talented youth.  It will be a great season, and we look forward to seeing you there!
Over the past twenty years more than 350 young artists have experienced the thrill of performing with our orchestra in front of an audience.   Almost universally these young artists describe the experience as being one of the best moments of their lives, and they always feel a great sense of accomplishment.
We need your help to carry on this great program.  Your attendance at our concerts is extremely important, but we need your financial support as well.  Like other cultural organizations, we rely on contributions to sustain our efforts.  We hope we can count on your support.
This year you have a special opportunity to make your contribution count even more.  One of our key supporters has offered a contribution challenge; for any individual contribution received before December 31 he will match the first $500 dollar for dollar.  The total for all matches is capped at $5,000.  Please help us reach this cap with your contribution now.
The easiest way to contribute is to click HERE for direct access to our donation page.
If you prefer to send a check, please mail it
Thousand Oaks Philharmonic
PO Box 4195
Thousand Oaks CA 91359
Thank you for you continued support.  We look forward to seeing you in January at the Opus 56 concert
Direct Access to Donation Page: HERE
Please consider sponsoring an Orchestra Chair.
Make your choice: HERE
Direct access to purchase Cart active items: Concerts, Recitals,Fund Raisers, Donations: HERE
Donations to T.O. Phil, a 501(C)3 non-profit corporation, are Tax Deductible. Tax exempt ID# 91-2129320
tophilharmonic@gmail.com         P.O. Box 4195, Thousand Oaks, CA 91359        www.TOPhil.org