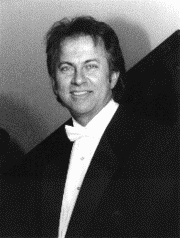 Born and first educated musically in Ohio, he moved to California in 1965, where his major teachers were Mildred McGowen-Ryan, and Peter Yazbeck. He entered CSU Northridge, as a scholarship student in the music department, where he earned Bachelor's and Master's degrees in Piano Performance. During his years at the university, he won many awards in solo and chamber music performance. He was the music department's candidate for the university President's Award, as top graduate student. His principal teacher was French Pianist Francoise Regnat. He was an invited participant in the master classes of Polish Pianist Jakob Gimpel for six years. Post-graduate study continued with Edward Auer. His study and research in pedagogy and music history were with William Richards, Rosalie Ligget, George Skapski, and Eleanor Russell.
Shortly after completing his master's degree he was hired as music faculty at Oxnard College in Ventura County. He has taught Class Piano, Music Appreciation, Music Fundamentals, History of Rock & Roll and has conducted one of the college choirs. Subsequently he was added to the Applied Piano faculty at Moorpark College and Pepperdine University. He has taught at CSUN for two summers, as part of an exchange program with the Superior Conservatory of Music-Seoul, Korea, and CSUN. In 1998 he was invited by CSUN to replace his former piano professor Francoise Regnat, while she took a one-year sabbatical. In 2010 he was hired to teach piano at CSUN. In 2013 he will assume the position of head of the Piano Pedagogy Area. He is also the editor of the CSUN Keyboard Area Newsletter.
For years he has been a member of two active performing groups. The Westlake Chamber Ensemble, which has played regular chamber music concerts for nearly twenty years. They have performed at the Thousand Oaks Civic Arts Plaza, the Thousand Oaks Library, the Recitals at Four series at the Los Angeles County Museum of Art, which was broadcast live on KUSC radio, Moorpark College, and numerous other venues. They gave the opening recital for the 1996 City of Ventura Chamber Music Festival, and they were the 1998 Chamber Music Artists for the Music Teachers' Association of California Convention held during the summer of 1998 in Los Angeles.
The DeCesare/Francis piano duo has been designated "Artists-in-Residence" at Moorpark College. They have played recitals at Moorpark College, UCLA, Pasadena City College, and the Thousand Oaks Civic Arts Plaza. Their CD titled Piano Music for Four Hands, was released in 2000.
He has been concerto soloist with the Ventura County Symphony, the Conejo Valley Symphony, the Moorpark College Symphony, the Ventura College Orchestra, and the Pepperdine University Symphony.
He has given master classes for several branches of the MTAC, the Utah Valley Music Teachers' Association, the Sarah Compinsky Master Class study group, the Colburn School, UCRiverside, Whittier College, Pasadena City College, some private music groups and several private teacher studios. He has lectured on a variety of topics that include: "Parents' Responsibilities in Music Study" and "The X-ray Technique for Confidence in Performance." He presented two papers at conventions sponsored by the Music Teachers' Association of California and the California Association of Professional Music Teachers, titled: "Etude, Brute: The Advanced Etude," and "The Concerto: Literature for the Emerging Young Artist." He has had several articles published in the profession journal "The California Music Teacher."
An experienced evaluator he has judged countless competitions and festivals, and is in demand as an adjudicator. For many years, his piano studio has produced many competition winners. Many have been featured soloists with orchestra as winners of Young Artist competitions, or in special award recitals. Other awards, won in state, national and international competitions have been numerous. Many of his students have matriculated at important music schools around the world, winning scholarships upon entrance. (Royal Academy of Music-London, Eastman, Indiana University, New England Conservatory, USC, CSUN, UCLA, University of Michigan, Arizona State U., Juilliard and Oberlin.)
In 1998 the Arts Commission of Thousand Oaks presented him with the "Encore Award for Excellence in the Arts." The award is given for past and continuing contributions to the performing arts in the community and surrounding areas. In 2006 he won, from the Department of Education as a Presidential Scholar in the Arts Teacher Award, given to a select group of teachers at a ceremony at the Andrew Mellon Auditorium and the Kennedy Performing Arts Center in Washington D. C. In 2011, he was awarded the "Beacon of Light Award-Humanities" by the Women's Federated in Ventura County for his work in promoting young artists in music.
He has served in various board positions, including five terms as President of the Conejo Valley MTAC. His work with the Music Teachers National Association, state affiliate, CAPMT, included two terms as Vice President, Convention Chair. He was a long time committee member of the New West Symphony's Education Outreach, is on the Artistic Committee for the Ventura Music Festival, is an editor for Alfred Music Company and and has served as editor for the Piano Education Web Page, where he was the featured "Artist-Educator of the Month" in November of 1997.