We have several Appassionata Students graduating from High School this year. We would like to honor each of them in the coming weeks.
Read about their accomplishments, with the Appassionata program, the TOPhil Orchestra and their High School studies.
Let's give them a big hand for their focus, hard work, achievements and bid then well as they aspire to even greater goals.
Enjoy their performances in celebration of this academic milestone.
==================
May 28
Songhee Lee
My name is Songhee Lee, and I am currently a graduating senior at Westlake High School. I plan to attend Occidental College majoring in Neuroscience.
Music has been a part of my life for as long as I can remember. I have played in numerous recitals, competitions, festivals at local and state level in both piano and clarinet. My teachers, Ornela Ervin and Nancy Bonds have been an inspiration for me, and have helped me become the musician I am today. My most cherished music memory is playing with TOPHIL under the baton of Dr. Roscigno. I am so grateful for all the experiences I was able to accumulate through the years and want to thank everyone in the TOPHIL organization and the music community for making it possible for students in our area to have all these opportunities to excel in music.
Chopin Nocturne in D flat Major Op. 15, No. 15: HERE
=======================
Dara Moayer
My name is Dara Moayer, and I'm a graduating senior at Westlake High School. I plan to study Violin Performance with Almita Vamos at Roosevelt University's Chicago School of Performing Arts. I am very grateful for the opportunities given to me by my teachers, Elise Goodman and Henry Gronnier, as well as the TOPHIL organization. The memories and experience made while performing with orchestra will be forever cherished and used to inspire and support my future as an aspiring musician.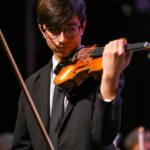 =======================
May 23
Rachel Burak
Hi! My name is Rachel and I am currently a graduating senior from Calabasas High School. I will be attending UCLA this fall on a path to a major in cognitive science and a minor in music. In addition to participating in numerous Appassionata masterclasses, I played two piano concertos with the Thousand Oaks Philharmonic orchestra during my middle and high school years. The Thousand Oaks Philharmonic has contributed greatly to my growth as musician, and I am so thankful for the opportunities they have given me!
Chopin Impromptu No. 1 in A flat Major Op.29: HERE
=======================
Anna Chung
My name is Anna Chung and I am currently a senior at Westlake High School who is excited to be attending UC Berkeley as a Computer Science major in the fall. I have had the pleasure of being a part of the  music community through the Appassionata program. I have participated in numerous masterclasses, recitals, competitions, festivals community outreach events and have had the privilege to perform at the Opus concerts as a soloist with TOPHIL. Playing with the orchestra is honestly one of my most treasured memories. I have been blessed to have had great piano teachers we have inspired me to achieve my best: Julie Liu, Edward Francis and, currently, Ornela Ervin. 
Music has gifted me a lot of comfort, happy memories, and new friends throughout the years that I cherish dearly and were, in part, only possible because of the amazing music community here of which the TOPHIL undeniably contributes greatly to. 
Anna Chung plays Malambo by Ginastera: HERE