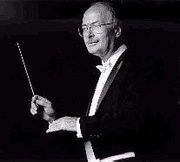 In August 2006, after being on a two week vacation to the North Pole with his wife Joyce, Tom Osborn returned to Los Angeles International Airport, and collapsed when disembarking from the plane. He had a massive heart attack and died. We were all saddened by his untimely passing, which was only a week before the Project: Brahms that the Thousand Oaks Philharmonic was to perform that very weekend. Since Tom was looking forward to conducting the concert and everything was scheduled and in place, his wife Joyce, felt that the concert should go on. It did, with Tom's spirit present, the soloists and orchestra gave outstanding performances.
A formal tribute was given to Tom during the second concert of the Brahms weekend at the Thousand Oaks Civic Arts Plaza. The orchestra, guest conductor, and each board member participated. Board members each shared a personal experience that they had with Tom. Some were poignant, others humorous, but all focused on Tom's love for music and education.
Shortly thereafter, the family arranged for a memorial service, which was attended by nearly 1000 people at Forrest Lawn in Hollywood. As was fitting, the service was filled with music performances given by members of the Thousand Oaks Philharmonic, the LA Philharmonic, the Hollywood Bowl Orchestra, the Downey Symphony, and the Roger Wagner Chorale.
The Osborn family has established the Thomas Osborn Endowment Fund. To donate, checks or money orders bay be sent to: Thousand Oaks Philharmonic, PO Box 4195, Thousand Oaks CA 91359. For more information or to make a donation with credit card please contact Edward Francis, the executive director of the T.O. Phil.
The board took on the intensive process of a conductor search, which lasted over the 2007 & 2008 seasons, during which several of the top candidates were invited to lead individual concerts. One of these candidates emerged as the new conductor choice. We based our criteria on many of the elements that Tom had established through the years he was our conductor (2000-2006). We are grateful for the time Tom dedicated himself to our mission, and we will miss him.