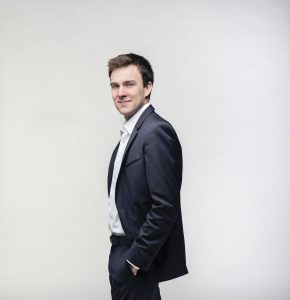 Hungarian-American pianist Peter Klimo has been studying piano since the age of nine. A Los Angeles native, he began his piano studies with Vicharini and Rosanna Marzaroli and continued with Dr. Tyler Tom. Peter earned his Bachelor's Degree from the Eastman School of Music studying with Dr. Nelita True, his Master's Degree from the Yale School of Music studying with Peter Frankl, and an Artist Diploma from Texas Christian University with Dr. Tamás Ungár.
Having participated in several international competitions, Peter won 3rd prize at the 2019 Bartók World Piano Competition, 3rd prize at the 2019 Bösendorfer International Piano Competition, 2nd prize at the 2014 International Franz Liszt Piano Competition in Utrecht, as well as special prizes at the 2017 Maj Lind and 2014 Wideman International Piano Competitions.
Performance highlights in recent years include concerto performances in Budapest, Hungary with Zsolt Hamar and the Hungarian National Philharmonic as well as with Gergely Ménesi and the Liszt Academy Symphony Orchestra; Phoenix, Arizona, with Matthew Kasper and the Phoenix Symphony; Seoul, South Korea with Hee-chuhn Choi and the KBS Symphony Orchestra; Los Angeles, California with John Roscigno and the 52nd American Liszt Society Festival Orchestra; Columbus, Georgia with George del Gobbo and the Columbus Symphony Orchestra.
Also a passionate chamber musician, Peter has toured with violinist Tessa Lark in the US and Holland, and with the Belenus Quartet in Austria and Holland. He performed Bartók's Sonata for Two Pianos and Percussion at the Kennedy Center in Washington D.C., at Sprague Hall at the Yale School of Music with all members playing from memory, as well as at the Dakota Sky International Piano Festival. He most recently performed the work throughout Holland in 2016 with winners of the International Tromp Percussion Competition. As a lover of art song, he attended the Vancouver International Song Institute, won the 2nd place pianist's prize at the Jessie Kniesel Lieder Competition, regularly coaches and accompanies recitals of singers, and frequently performs song transcriptions in solo recitals. Peter also served as a faculty member for the 2013 inaugural year of the DBS Summer Music Festival in Hong Kong.
Peter's relationship with Edward Francis began in 2013 when he began taking lessons with Edward when he was home from college for holidays and the summer.  Peter shares that Edward "immediately became an important mentor for me, encouraging my continued growth and supporting it with performance opportunities in and around Thousand Oaks."  When Peter became aware of Edward's work with the TO Phil, he "marveled at the incredible opportunities he was able to create for students."  In the summer before Edward passed, he entrusted Peter with a number of his students, one of whom Peter prepared for an Opus concert.  For Peter, "It is an honor to be a small part of Edward's legacy with the TO Phil."  We are grateful to Peter for the generous gift of his performance in support of the mission of the TO Phil.
Peter is currently pursuing his Doctorate of Musical Arts in Performance and Literature at the Eastman School of Music with Alan Chow.
Check out the great article in the Thousand Oaks Acorn
Written by Cary Ginell entitled "Departing conductor says he'll miss watching players grow up."  You will enjoy reading the interview with John Roscigno and the thoughts of our young soloists about their performances with the TO Phil.
 To read the Acorn article click:  HERE